TLJ News from August 6-10, 2007
---
District Court Rules Novell Owns UNIX Copyrights
8/10. The U.S. District Court (DUtah) issued a Memorandum Decision and Order in SCO v. Novell, a dispute over intellectual property rights in the UNIX operating system software.
The District Court held that "Novell is the owner of the UNIX and UnixWare copyrights". The opinion will likely also have consequences for Linux distributors and users. While SCO and Novell are the parties to this action, IBM will also benefit.
SCO Group, Inc. (which was previously Caldera Systems, Inc.) began this action by filing a complaint against Novell in state court in Utah alleging slander of title. See, story titled "SCO Sues Novell for Slander of Title" in TLJ Daily E-Mail Alert No. 820, January 21, 2004. Novell removed the action to the U.S. District Court. SCO amended its complaint, and Novell counterclaimed.
In 1995, a predecessor of SCO acquired from Novell, under an Asset Purchase Agreement (APA), certain assets from Novell. The two also executed a Technology Licensing Agreement (TLA) granting Novell the right to use technology included in the transferred assets and derivatives. The meaning and consequences of this APA and TLA are at issue in this action.
SCO also filed a separate complaint against IBM, alleging that IBM wrongfully included UNIX code in Linux products. Novell publicly disputed SCO's claims, which resulted in the present action by SCO against Novell.
See, full story.
District Court Denies IRS Motion to Dismiss APA Challenge to Phone Tax Refund Mechanism
8/10. The U.S. District Court (DC) issued an opinion [25 pages in PDF] in multidistrict litigation under the Administrative Procedure Act (APA) challenging the Internal Revenue Service's (IRS) mechanism for refunding illegally collected telephone excise taxes. The District Court denied various requests for dismissal brought by the IRS. The District Court will now proceed to address the merits of the case.
The IRS persisted for years in collecting an excise tax on phone services (codified at 26 U.S.C. § 4251) that the relevant definitional section (26 U.S.C. § 4252) did not cover. The IRS continued to collect the illegal tax even as numerous District Courts and Courts of Appeals held that it could not collect the tax.
See, stories titled "IRS Announces It Will Cease Its Illegal Collection of Excise Taxes on Phone Service" in TLJ Daily E-Mail Alert No. 1,379, May 26, 2006. (This story contains hyperlinks to five Court of Appeals opinions, and TLJ stories regarding those opinions.)
The IRS did relent in May of 2006. It subsequently adopted a refund mechanism. See, story titled "IRS Announces Procedures for Refund of Illegally Collected Phone Excise Taxes" in TLJ Daily E-Mail Alert No. 1,444, September 7, 2006.
The present action is a multidistrict consolidation of federal actions challenging the IRS's refund mechanism. Plaintiffs allege that various restrictions in the mechanism limit refunds to less than the amounts illegally collected by the IRS.
The IRS sought dismissal on various procedural grounds. It asserted lack of standing, sovereign immunity (notwithstanding the APA), that its action is committed to agency discretion, and that there is no final agency action.
The District Court wrote that "Because none of these arguments withstands inspection, the court denies the defendant's motion to dismiss the claim, permitting further review to proceed on the merits."
This case is In Re Long-Distance Telephone Service Federal Excise Tax Refund Litigation, U.S. District Court for the District of Maryland, MDL Docket No. 1798, Master File 07-mc-0014 (RMU), and Member Case 07-cv-0051 (RMU). This opinion relates to Cohen v. United States, originally filed in the U.S. District Court for the Eastern District of Wisconsin.
More News
8/10. The National Institute of Standards and Technology's (NIST) Office of Law Enforcement Standards (OLES) and the Department of Homeland Security's (DHS) Office of Interoperability and Compatibility (OIC) announced that they will hold a two day meeting "to discuss the development of an implementation profile for VoIP between radio system bridging solutions". The deadline to register to attend is September 4, 2007. The meeting will be on September 11 and 12, 2007, from 8:30 AM to 5:00 PM. It will be held at the National Telecommunications and Information Administration's (NTIA) Institute for Telecommunication Sciences (ITS) in Boulder, Colorado. See, notice in the Federal Register, August 10, 2007, Vol. 72, No. 154, at Pages 45010-45011.
8/10. The Copyright Office (CO) published a notice in the Federal Register that states, effective August 10, 2007, it terminates several proceedings conducted under the former Copyright Arbitration Royalty Panel (CARP) system, and that the authority to set rates or to make determinations regarding the future distribution of royalty funds associated with these proceedings is transferred to the Copyright Royalty Board (CRB). See, Federal Register, August 10, 2007, Vol. 72, No. 154, at Pages 45071-45072.
8/10. The Federal Communications Commission (FCC) released the text [312 pages in PDF] of its Second Report and Order (2ndR&O) regarding the 700 MHz band. The FCC adopted this order on July 31, 2007. It is FCC 07-132 in WT Docket Nos. 06-150, 01-309, 03-264, 06-169, and 96-86, CC Docket No. 94-102, and PS Docket No. 06-229. See also, story titled "FCC Adopts 700 MHz Band Order" in TLJ Daily E-Mail Alert No. 1,619, July 31, 2007.
8/10. The Progress and Freedom Foundation (PFF) released a paper [14 pages in PDF] titled "Privacy and the Commercial Use of Personal Information: The Case of Customer Proprietary Network Information". It states that "Regulation of CPNI collected by telecom companies will limit their ability to share and use information. There can be no benefits from these proposals if the FCC is correct in its assessment that there is no consumer harm from use of CPNI data by outside contractors or partners." On the other hand, it argues that there will be cost to consumers. Telecom companies would use CPNI to develop new plans and to provide marketing information to consumers that is tailored to their needs. The authors of the paper are Tom Leonard (PFF) and Paul Rubin (Emory University).
8/10. The World Intellectual Property Organization (WIPO) release a report titled "WIPO Patent Report: Statistics on Worldwide Patent Activity (2007 Edition)". It states that "Worldwide filings of patent applications have grown at an average annual rate of 4.7% since 1995 to a total of more than 1.6 million in 2005." It states that use of the patent system remains highly concentrated in five patent offices -- the patent office of Japan, USPTO, patent office of the People's Republic of China, patent office of the Republic of Korea, and the European Patent Office. It states that the number of Patent Cooperation Treaty (PCT) international applications "increased by 7.9% from 2005 to 2006 to reach 147,500". It also states that patent applications "filed in the field of electricity and electronics represented 35% of worldwide patent filings between 2000 and 2005". See also, WIPO release.
---
DOJ Applies ADA to Practice of Law
8/9. The Department of Justice's (DOJ) Civil Rights Division (CRD) and Joseph David Camacho, an attorney in the state of New Mexico, entered into an agreement that settles an administrative complaint that alleges violation of the Americans with Disabilities Act (ADA).
The agreement provides for application of the ADA to the practice of law, and requires attorneys to provide and pay for the costs of sign language interpreters and transcriptions for deaf persons.
The agreement does not address the applicability of the ADA to law firm's use of web sites, e-mail, or other information or communications technologies. Nor does it address law firm's obligations to blind or mentally disabled persons.
See, full story.
2nd Circuit Upholds Injunction of Directv's HDTV Ad Campaign
8/9. The U.S. Court of Appeals (2ndCir) issued its opinion [29 pages in PDF] in Time Warner Cable v. Directv, a Lanham Act case regarding Directv's television and internets ads for its satellite television service.
Directv made and disseminated several goofy ads featuring actors Jessica Simpson (as Daisy Duke) and William Shatner (as Captain Kirk). Both compared high definition television (HDTV) via cable and Directv. Simpson stated that "You're just not gonna get the best picture out of some fancy big screen TV without DIRECTV." Shatner stated that "settling for cable would be illogical".
Time Warner Cable (TWC) filed a complaint in U.S. District Court (EDNY) against Directv alleging false advertising in violation of § 43(a) of the Lanham Act, which is codified at 15 U.S.C. § 1114, et seq. The District Court granted TWC a preliminary injunction. See, opinion reported at 475 F.Supp.2d 299.
Directv brought the present interlocutory appeal. The Court of Appeals ordered minor changes to the preliminary injunction, and remanded to the District Court, but otherwise upheld the preliminary injunction.
The relevant language of the statute, found at 15 U.S.C. § 1125, provides that "Any person who, on or in connection with any goods or services ... uses in commerce ... any ... false or misleading description of fact, or false or misleading representation of fact, which ... (B) in commercial advertising or promotion, misrepresents the nature, characteristics, qualities, or geographic origin of his or her or another person's goods, services, or commercial activities, shall be liable in a civil action by any person who believes that he or she is or is likely to be damaged by such act."
The District Court and Court of Appeals found the Directv ads to be literally false, and hence, that no proof of consumer deception is necessary to obtain injunctive relief.
The Court of Appeals held, among other things, that "an advertisement can be literally false even though it does not explicitly make a false assertion, if the words or images, considered in context, necessarily and unambiguously imply a false message".
The false message in the present case is that Directv HDTV is better than cable HDTV.
This case is Time Warner Cable, Inc. v. Directv Inc., U.S. Court of Appeals for the 2nd Circuit, App. Ct. No. 07-0468-cv, an appeal from the U.S. District Court for the Eastern District of New York, Judge Laura Swain presiding. Judge Straub wrote the opinion of the Court of Appeals, in which Judges Kearse and Pooler joined.
More News
8/9. The U.S. Court of Appeals (1stCir) issued its opinion in Mag Jewelry v. Cherokee, a copyright case involving costume jewelry. The Court of Appeals affirmed the District Court's judgment for the defendants on the infringement issue. However, the Court of Appeals reversed the District Court's refusal to award attorneys fees to the defendants. It held that defendants may recover attorneys fees in a copyright infringement action where the claim was tenuous, the plaintiff's theory shifted during litigation, and the plaintiff prolonged litigation. This case is Mag Jewelry Company, Inc. v. Cherokee Company, Target Corporation, et al., U.S. Court of Appeals for the 1st Circuit, App. Ct. Nos. 06-1556 and 06-2127, appeals from the U.S. District Court for the District of Rhode Island, Judge Ernest Torres presiding.
---
More News
8/8. The Center for Democracy and Technology (CDT) released a paper [6 pages in PDF] titled "Search Privacy Practices: A Work in Progress" that compares the privacy practices of Google, Microsoft, Yahoo, AOL, and other search providers. It states that "Many of the top Internet search companies have recently announced new privacy initiatives aimed at giving users greater control over data about their search activities or stronger assurances that it is being handled appropriately." However, it adds that "No amount of self-regulation in the search privacy space can replace the need for a comprehensive federal privacy law to protect consumers from bad actors. With consumers sharing more data than ever before online, the time has come to harmonize our nation's privacy laws into a simple, flexible framework."
---
FCC Adopts CMRS Roaming Order and NPRM
8/7. The Federal Communications Commission (FCC) adopted, but did not release, a Report and Order and Further Notice of Proposed Rulemaking (FNPRM) that pertains to the roaming obligations of Commercial Mobile Radio Service (CMRS) providers. The order portion of this item provides that CMRS carriers have roaming obligations as to Title II services. The NPRM portion of this item seeks further comments on extending roaming obligations to broadband data services.
This item is FCC 07-143 in the FCC's proceedings titled "Reexamination of Roaming Obligations of Commercial Mobile Radio Service Providers" and numbered WT Docket No. 05-265. The FCC issued a short release [PDF] that describes this item, and each of the five Commissioners released a statement.
The FCC's release states that the order requires "CMRS carriers to provide roaming services to other carriers upon reasonable request and on a just, reasonable, and non-discriminatory basis under Sections 201 and 202 of the Communications Act. When a reasonable request is made by a technologically compatible CMRS carrier, a host CMRS carrier must provide automatic roaming to the requesting carrier outside of the requesting carrier's home market."
The FCC's release also states that the FCC "decided to maintain its existing manual roaming requirement, which requires CMRS providers to permit customers of other carriers to roam manually on their networks, for example by supplying a credit card number, provided that the roamers' handsets are technically capable of accessing the roamed-on network."
The FCC's release also states that carriers' roaming obligations extend to "real-time, two-way switched voice or data services that are interconnected with the public switched network and utilize an in-network switching facility that enables the provider to reuse frequencies and accomplish seamless hand-offs of subscriber calls". It adds that carriers' roaming obligations also extend to push to talk and text messaging services.
The order portion of this item does not impose automatic roaming obligations on carriers' broadband data services, which the FCC has classified as information services, rather than as Title II services. However, the NPRM portion of this item requests public comments on this topic.
FCC Chairman Kevin Martin wrote in his statement [PDF] that some companies "have also suggested that part of their business model for the 700 MHz band includes wholesaling capacity to provide broadband roaming to other carriers as a kind of anchor service. I am concerned that extending the roaming obligation to broadband data services at this time could undermine the wholesale model that some have advocated."
In contrast, FCC Commissioner Michael Copps again criticized the FCC's classification dichotomy of Title I information services and Title II common carrier services in his statement [PDF].
On March 22, 2007, the FCC adopted a Declaratory Ruling (DR) that declares that wireless broadband internet access service is an information service. This DR is FCC 07-30 in WT Docket No. 07-53. See also, story titled "FCC Declares Wireless Broadband Is An Information Service" in TLJ Daily E-Mail Alert No. 1,556, March 26, 2007.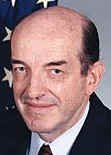 Copps (at right) then wrote that "Roaming consumers will be able to send text messages to their friends' mobile phones -- because we conclude today that text messaging is ``typically offered´´ in conjunction with voice service. But these very same consumers have no guarantee that they can send emails to their friends -- even though many consumers (including virtually all of us in this room) routinely use mobile devices to send and receive email." (Parentheses in original.)
He added that "Roaming consumers will be able to make voice calls to PSTN numbers in the ordinary fashion. But it is not clear that they can rely on a VoIP application they may have downloaded to call PSTN numbers; and they have no guarantee whatsoever of being able to use a peer-to-peer VoIP product that dials IP addresses rather than PSTN numbers."
Finally, he wrote that "Consumers who access the Internet by using their mobile device as a dial-up modem will be able to do so while roaming.1 But consumers have no guarantee of being able to access the faster speeds offered by non-dial-up forms of wireless Internet access. And they have no guarantee of being able to use the many applications on their devices that rely on Internet access, such as browsers, mapping programs, interactive games, and so forth."
FCC Commissioner Jonathan Adelstein wrote in his statement [PDF] that he too favors extending roaming requirements to broadband data services.
FCC Commissioner Robert McDowell wrote in his statement [PDF] that "Although it is possible that unrestricted data roaming obligations may benefit consumers by providing a wider availability for the data features they increasingly rely upon, it is equally important that the Commission not inhibit innovation and investment by distorting incentives to differentiate products."
The FCC has not yet released the text of this item. Nor has it yet set comment deadlines for the NPRM portion of this item.
More News
8/7. Federal Communications Commission (FCC) Chairman Kevin Martin gave a speech [2 pages in PDF] at the APCO International annual conference.
---