William Kennard Biography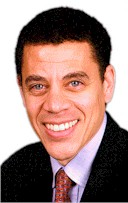 William Kennard
William Kennard was nominated to be Chairman of the FCC by President Clinton in August 1997. He was confirmed by the Senate on October 29, and sworn in by Vice President Gore on November 7, 1997. His term expires on June 30, 2001.
As Chairman, Kennard is committed to ensuring that competition will bring consumers in every sector of the communications marketplace more choice, better services, and faster innovation at the lowest prices. A native of Los Angeles, Kennard graduated Phi Beta Kappa from Stanford University in 1978 and received his law degree from Yale Law School in 1981.
Kennard came to the Chairmanship after three-and-one-half years as the agency's General Counsel and a career as a practicing attorney involved in a broad range of communications issues.
As FCC General Counsel, Kennard served as the Commission's principal legal advisor and represented the Commission in court. He served as General Counsel during a particularly challenging time, as the FCC began its implementation of the Telecommunications Act of 1996.
Before joining the FCC, Kennard was a partner and member of the board of directors of the Washington, DC, law firm of Verner, Liipfert, Bernhard, McPherson and Hand. At Verner, Liipfert, he specialized in communications law, with an emphasis on regulatory and transactional matters for communications companies.
Before entering private law practice, Kennard served as Assistant General Counsel and as Legal Fellow for the National Association of Broadcasters. He has written several articles on communications law topics. Throughout his career, Kennard has advocated creating and expanding opportunities for small businesses and minority-owned businesses to participate in the communications marketplace. In the 1980s he served on the FCC's Advisory Committee on Minority Ownership in Broadcasting. He is the first African-American to chair the FCC. Kennard is a member of the District of Columbia and California Bars and has served as Treasurer, Secretary, and Assistant Secretary of the Federal Communications Bar Association.
He is married to Deborah Diane Kennedy of Greenville, South Carolina. She is Managing Counsel at Mobil Corporation. They live in the District of Columbia.

Work Experience
December 1993 - October 1997. Federal Communications Commission, General Counsel: As the Commission's chief legal officer, the General Counsel is responsible for advising the Commission on all matters involving the interpretation and application of the Communications Act of 1934, as ammended, as well as other enacted or proposed legislation or regulations affecting the responsibilities and jurisdiction of the Commission. The General Counsel also serves as the Commission's legal representative in all litigation involving the Commission.
April 1984 - December 1993. Verner, Liipfert, Bernhard, McPherson & Hand, Chartered, Partner.
July 1983 - April 1984. National Association of Broadcasters, Assistant General Counsel.
Sept. 1982 - July 1983. Verner, Liipfert, Bernhard, McPherson & Hand, Chartered, Associate.
Sept. 1981 - Sept. 1982. National Association of Broadcasters, Legal Fellow: Recipient of one-year legal fellowship.
Education
May 1981. Yale Law School, Juris Doctor.
May 1978. Stanford University, A.B. with distinction, Communications, Phi Beta Kappa
Bar Memberships
Admitted in California.
Admitted in the District of Columbia.
Professional Memberships
Federal Communications Bar Association. Nominations Committee - 1993 - 1994; treasurer - 1988-89; Secretary - 1987-88; Assistant Secretary - 1986-87.
American Bar Association.
National Bar Association.
Selected Statements, Speeches, and Publications.