House Judiciary Committee Approves Database Protection Bill
January 21, 2004. The House Judiciary Committee amended and approved HR 3261, the "Database and Collections of Information Misappropriation Act" by a roll call vote of 16-7. This bill codifies a cause of action for misappropriation of certain databases.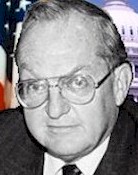 Rep. Lamar Smith (R-TX) and Rep. Howard Coble (R-NC) (at right) led the debate in support of the bill. Rep. Rick Boucher (D-VA) led the opposition to the bill. The final vote broke down largely along party lines, with Republicans supporting the bill, and Democrats opposing the bill. However, the Southern Californians, Rep. Adam Schiff (D-CA) and Rep. Linda Sanchez (D-CA), voted for the bill.
Feist. The legislative activity involving database protection is in part a reaction to the 1991 opinion of the Supreme Court in Feist Publications, Inc. v. Rural Telephone Service Co., also reported at 499 U.S. 340. The Court rejected the "sweat of the brow" basis for protecting compilations of data under copyright law, and held that some compilations of data are not protected under copyright law.
Feist involved telephone directories that collected and arranged names and phone numbers. The Court reasoned that facts, such as phone numbers, are not copyrightable, and that the compilation of names and numbers lacked sufficient creativity to merit copyright protection.
Other recent cases in which courts have not extended copyright protection to databases include Warren Publishing, Inc. v. Microdos Data Corp., 115 F.3d 1509 (11th Cir. 1997), Mid America Title Co. v. Kirk, 59 F.3d 719 (7th Cir. 1995), and Skinder-Strauss Assocs. v. Massachusetts Continuing Legal Edu., Inc., 914 F. Supp. 665 (D. Mass. 1995).
Various bills introduced in the Congress since then have sought to afford greater protections to those who develop, maintain and own databases, but not pursuant to copyright law.
Legislative History. Rep. Coble, who was Chairman of the Courts, Internet, and Intellectual Property Subcommittee (CIIP) in the 105th through the 107th Congresses, has been trying to pass a database protection bill for years. He sponsored HR 2652 in the 105th Congress (1997-1998); it ultimately passed the House, but not the Senate.
He sponsored a similar bill in the 106th Congress (1999-2000), HR 354, the "Collections of Information Antipiracy Act", that was passed by the Judiciary Committee. Although, it provided less protection to database developers and owners than HR 2652.
The key language of HR 354 provided that "Any person who extracts, or uses in commerce, all or a substantial part, measured either quantitatively or qualitatively, of a collection of information gathered, organized, or maintained by another person through the investment of substantial monetary or other resources, so as to cause harm to the actual or potential market of that other person, or a successor in interest of that other person, for a product or service that incorporates that collection of information and is offered or intended to be offered for sale or otherwise in commerce by that other person, or a successor in interest of that person, shall be liable to that person ..."
The bill was in the nature of intellectual property law. However, the protection afforded was different from that afforded under copyright law. The content need not be original, and harm must be suffered by the appropriation. It resembled unfair competition laws by allowing a remedy for harm committed by another.
Meanwhile, some internet companies, telecom companies, and educational institutions lobbied against creating protections for databases. They found support on the Commerce Committee. Former Rep. Tom Bliley (R-VA), who was also the Chairman of the Commerce Committee, introduced a bill in the 106th Congress, HR 1858, the "Consumer and Investor Access to Information Act of 1999 ", that provided very weak protections for database owners. It was passed by the Commerce Committee.
HR 1858 was designed to defeat passage of HR 354, rather than provide protection to database developers. It prohibited the duplication of databases only under certain very limited circumstances. And, except in the case of databases of real time market information developed by the stock exchanges, there is no way for the owners of pirated databases to enforce their rights. It contained no general private right of action. Enforcement was left to the Federal Trade Commission (FTC), which is a consumer protection agency, without expertise in intellectual property matters, and without substantial enforcement powers.
See, TLJ web page titled "Summary of Bills Pertaining to Protecting Databases from Piracy in the 106th Congress".
HR 354 had overwhelming support on the Judiciary Committee, while HR 1858 had overwhelming support on the Commerce Committee. The two Committees were deadlocked, and the House took no further action.
See also, TLJ news analysis titled "House Commerce and Judiciary Committees Vie for High Tech Leadership", June 15, 1999. The article examines the turf contest between the two Committees on database legislation, and other technology related issues, and offers explanations for why the two Committees tend to have different perspectives on issues related to intellectual property rights.
See also, stories titled "Hearing on Database Protection Bill", 2/12/98, "HR 2652 Passes Subcommittee", 3/18/98, "Judiciary Committee Approves HR 2652", 3/25/98, "House Passes Database Protection Bill", 5/21/98, "Coble Re-introduces Database Protection Bill", 1/22/99, "House Subcommittee Holds Hearing on HR 354", 3/19/99, "Bliley Introduces Database Bill", 5/23/99, and "House Telecom Subcommittee Holds Hearing on Database Protection" (6/16/99).
At the beginning of the 107th Congress, Rep. Billy Tauzin (R-LA) and Rep. James Sensenbrenner (R-WI), who had just become Chairmen of the Commerce and Judiciary Committees, collaborated. They met with parties interested in the database protection issue, and instructed them to develop consensus database protection legislation. See, story titled "Database Protection" in TLJ Daily E-Mail Alert No. 155, March 30, 2001, and transcript of March 29, 2001 press conference of Rep. Tauzin and Rep. Sensenbrenner.
HR 3261, introduced on October 8, 2003, is the product of that process. Both Rep. Tauzin and Rep. Sensenbrenner are cosponsors. The extent of the protection offered by HR 2652, HR 354, and HR 3261 can be characterized. HR 354 offered less protection than HR 2652, and HR 3261 offers less protection that HR 354. Moreover, as each bill progressed, it was watered down through amendments.
Rep. Coble is the lead sponsor, and Rep. Smith is a cosponsor, of HR 3261. The CIIP Subcommittee, now chaired by Rep. Smith, amended and approved the bill on October 16, 2003 by a vote of 10-3. The full Committee amended and approved the bill on January 21, 2004 by a vote of 16-7.
HR 3261. This bill is based upon the legal theory misappropriation.
The basic prohibition, which is found in Section 3, provides that "Any person who makes available in commerce to others a quantitatively substantial part of the information in a database generated, gathered, or maintained by another person, knowing that such making available in commerce is without the authorization of that other person (including a successor in interest) or that other person's licensee, when acting within the scope of its license, shall be liable for the remedies set for in section 7 if (1) the database was generated, gathered, or maintained through a substantial expenditure of financial resources or time; (2) the unauthorized making available in commerce occurs in a time sensitive manner and inflicts injury on the database or a product or service offering access to multiple databases; and (3) the ability of other parties to free ride on the efforts of the plaintiff would so reduce the incentive to produce or make available the database or the product or service that its existence or quality would be substantially threatened."
However, the bill also contains numerous exceptions, exclusions and limitations.
January 21, 2004 Markup. The Committee took up the bill as approved by the CIIP on October 16, 2003. Rep. Coble and Rep. Smith led the debate in support of the bill. At the outset, Rep. Coble offered an amendment that expands the exclusion for educational institutions and research libraries. It clarifies that the exclusion from liability under this bill also applies to certain students. This amendment passed by voice vote.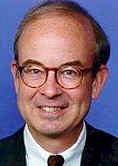 Rep. Boucher (at left) led the efforts to further water down the bill, and to defeat the bill. He argued that this bill is "simply not necessary" because there are already a wide range of legal remedies available to the developers of databases. He cited the availability of copyright infringement actions for the copying of certain types of databases, the tort of trespass, the tort of misappropriation, contract remedies (against parties to subscription license agreements), and the anti-circumvention provisions of the Digital Millennium Copyright Act (DMCA).
Rep. Boucher also argued that passage of this bill could inhibit scientific research and reporting. He also argued that if this bill becomes law "there is going to be lots of litigation".
Rep. Boucher, who is a senior member of both the Judiciary and Commerce Committees, also argued that few members of the Commerce Committee "would say that they support this bill". However, Rep. Billy Tauzin (R-LA), the Chairman of the Commerce Committee, and Rep. James Greenwood (R-PA), a senior member of the Commerce Committee, are both cosponsors of the bill. Also, the Commerce Committee does not now have jurisdiction over this bill.
Treatment of ISPs. The Committee considered a second amendment offered by Rep. Coble that addressed the treatment of ISPs. However, Rep. Boucher offered an amendment to this Coble amendment. The Boucher amendment, which basically tracks the ISP immunity language of the Digital Millennium Copyright Act (DMCA), states that "No provider of an interactive computer service shall be liable under section 3 for making available information that is provided by another information content provider."
Rep. Smith spoke in opposition to the Boucher amendment, while Rep. Bob Goodlatte (R-VA) and Rep. Zoe Lofgren (D-CA), spoke in support. The Boucher amendment passed on a roll call vote of 17-7-1. The Committee then approved by unanimous voice vote the Coble amendment, as amended by the Boucher amendment.
Boucher Amendment to Preclude Protection for Existing Databases. Rep. Boucher next offered another amendment to the base bill that provided that the protection afforded by the bill would not apply to databases already in existence. It failed on a roll call vote of 8-18.
This amendment provided that "This Act shall take effect on the date of the enactment of this Act, and shall not apply to a database that is made available in commerce before such date of enactment."
Rep. Sensenbrenner made the point that if this amendment were adopted it would effectively put every database into the public domain.
Rep. Coble pointed out that some databases are continually updated. He argued that one of the purposes of the bill is to give an incentive to maintain existing databases. He stated that under this amendment, database owners would not have an incentive to keep existing databases updated, and the public would therefore suffer by not having access to up to date information.
Boucher Amendment Re Court and Legislative Records Databases. Rep. Boucher then offered a third amendment that failed on a voice vote.
It provided and exception for "Any legal materials produced by a Federal court, including opinions, judgments, and rules of practice, and any legislative materials produced by the Congress, including bills and resolutions, committee reports, and floor statements."
Rep. Coble argued that the Congress should protect database developers who put in the effort to wade through enormous quantities of public records, organize it, and make it accessible in a consumer friendly manner.
The Committee then approved the bill by voice vote, and voted to report the bill by a vote of 16-7.
---
Disclosure. TLJ develops and maintains, but does not publish or sell, various collections of data. Readers may wish to consider this in assessing the objectivity of any TLJ stories about database protection legislation.