FCC Rules ILECs Have No § 251 Unbundling Obligations for FTTC
October 14, 2004. The Federal Communications Commission (FCC) adopted, but did not release, an Order on Reconsideration regarding broadband unbundling obligations.
The FCC issued a short release that describes this item. The release states that the order "relieves incumbents from unbundling requirements for fiber-to-the-curb (FTTC) loops, where fiber is extended within 500 feet of a customer's premises."
It elaborates that "The FCC found that FTTC networks can deliver many of the same benefits as FTTC loops. FTTC networks offer enhanced capability for providing advanced services, including the ability to offer voice, multi-channel video, and high-speed data services. The new rules free companies to choose between FTTH or FTTC networks based on marketplace characteristics, rather than disparate regulatory treatment."
The release also states that the order clarifies that incumbent local exchange carriers (ILECs) "are not obligated to build time division multiplexing (TDM) capability into new packet-based networks or into existing packet-based networks that never had TDM capability."
FCC Commissioner Kevin Martin wrote in a separate statement [PDF] that this item states that "our intention was to preserve access to the incumbent LECs' existing network facilities, and to provide access to DS-1 loops only over TDM capable hybrid network facilities and not over packetized network facilities. In the Triennial Review Order, we held that ILECs need not unbundle their packet-based networks, including any packetized transmission path."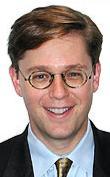 Martin (at left) added that "In particular, we recognize that where ILECs deploy new packet-based networks they nevertheless may need to hand-off a signal to some customers in TDM format in order to be compatible with an end user's customer premises equipment. The decision makes clear that carriers that choose to deploy new packet-based networks will not be required to unbundle their new packet-based networks regardless of whether they hand off a signal in a TDM format to any such customer."
This order on reconsideration addresses requests from BellSouth and SureWest filed in October of 2003 to reconsider parts of the 2003 Triennial Review Order (TRO).
The FCC released its triennial review order [576 pages in PDF] on August 21, 2003. See, story titled "Summary of FCC Triennial Review Order" in TLJ Daily E-Mail Alert No. 725, August 25, 2003. See also, stories titled "FCC Announces UNE Report and Order" and "FCC Order Offers Broadband Regulatory Relief" in TLJ Daily E-Mail Alert No. 609, February 21, 2003.
The TRO addresses the Section 251 unbundling obligations of ILECs. Unbundled network elements (UNEs) are those portions of telephone networks that the ILECs, such as Verizon, BellSouth, SBC and Qwest, must make available to competing carriers, such as AT&T and MCI WorldCom, seeking to provide telecommunications services. The Telecommunications Act of 1996 provides that ILECs must provide access to certain of their network elements at regulated rates. See, 47 U.S.C. § 251.
The TRO provides that there is no unbundling requirement for fiber to the home (FTTH) loops. On March 2, 2004, the U.S. Court of Appeals (DCCir) issued its opinion [62 pages in PDF] in USTA v. FCC overturning some parts of the TRO. However, it upheld the TRO's FTTH provisions. See, story titled "Appeals Court Overturns Key Provisions of FCC Triennial Review Order" in TLJ Daily E-Mail Alert No. 848, March 3, 2004.
FCC Chairman Michael Powell wrote in a separate statement [PDF] that "By limiting the unbundling obligations of incumbents when they roll out deep fiber networks to residential consumers, we restore the marketplace incentives of carriers to invest in new networks."
FCC Commissioner Kathleen Abernathy also wrote a separate statement [PDF] in support of this item.
FCC Commissioner Michael Copps, who dissented from the TRO's FTTH provisions, also dissented from this order. He also wrote in his separate statement [PDF], without elaboration, that this item does not "bode well for independent providers of VoIP services who don't own or control the physical layer of the network."
FCC Commissioner Jonathan Adelstein wrote a separate statement [PDF], dissenting in part.
Russell Frisby, CEO of CompTel/ASCENT, stated in a release that "Under the guise of promoting mass market broadband deployment, the Bells once again have pressured the FCC into a policy stance that strays drastically from the national goal of small business-based job creation." He added that "because the Bells can completely foreclose access by competitors to fiber-to-the-curb, the Bells have carte blanche to prevent facilities-based competitors from accessing the loops needed to provide service to the smallest business customers."
This item is FCC 04-248 in CC Docket No. 01-338, CC Docket No. 96-98, and CC Docket No. 98-147.