Senate Commerce Committee Holds Hearing on Nominations of Tate and Copps
December 13, 2005. The Senate Commerce Committee (SCC) held a hearing on the nominations of Deborah Tate and Michael Copps to be members of the Federal Communications Commission (FCC). Copps is a current member who has been nominated for another term. Tate is a member of the Tennessee Regulatory Authority. No member of the SCC expressed opposition or criticism of either nominee.
Sen. Ted Stevens (R-AK), the Chairman of the SCC, stated at the conclusion that he hoped to have both nominees confirmed by the Senate this year. He stated to reporters after the hearing that "we're going to figure out a way to get them to the floor as quickly as possible".
The agenda for the SCC's business meeting on Thursday, December 15, had included consideration of both nominees. However, on Tuesday evening, the full Senate approved a unanimous consent request to discharge the SCC from further consideration of both nominees. The eliminates the need for a SCC vote. The nominations are now on the calendar for the full Senate.
Stevens also stated to reporters after the hearing that he has not heard of any objections to the nominations of either Copps or Tate.

At Tuesday's hearing, Tate (at left) was asked little, and she said less. She read a brief prepared statement. She said that she will be a "be a voice for families and consumers", and that she will "work closely with Congress".
When asked about indecency, she said that she would "get back with you".
She told Sen. Stevens that she has a background as a mediator, and that she will try to employ her skills "to bring consensus with the industry".
She gave personal responses to some substantive questions. When asked about universal service support, she spoke about the time her grandmother in rural Tennessee got her first telephone. She also spoke about being the mother of three, and her experiences in Tennessee.
Sen. Inouye asked how e-rate funds should be distributed. She said that "we want the funds to be spent well". Sen. Stevens asked if she had "formed an opinion about universal service". She said "what an incredible program ... to provide telephone service to all Americans at affordable prices", and "I am very supportive of universal service".
Sen. John Sununu (R-NH) spoke at length about several issues, including reforming universal service, and limiting FCC regulation of VOIP service providers. However, he mainly articulated his views to Tate and Copps, and Sen. Stevens and Sen. Inouye, rather than sought the views of the nominees.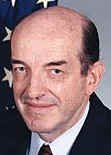 Commissioner Copps (at right) also came with a prepared statement, most of which he read.
He again complained about the state of media concentration, and the FCC's media ownership rules. He spoke about indecency and violence. And, he advocated less transparency at the FCC.
One reporter stated to Sen. Stevens after the hearing that "she and her husband own cable and telecom stocks", and asked "Does she have to divest those or do something?" Sen. Stevens responded, "That's up to the IG of the FCC, not us."
Stevens also stated to reporters after the hearing that he was at the White House earlier in the morning and that he raised the subject of nominating a replacement for Kathleen Abernathy, who just left the FCC. He said, "Well, we're working on it. That was the response. Thatís exactly what it was."
Sen. Lamar Alexander (R-TN) introduced and praised Tate, who previously worked for him when he was the Governor of Tennessee. Rep. Bart Gordon (D-TN), a senior member of the House Commerce Committee, attended the hearing, but did not testify, except to say "Amen" to Sen. Alexander's introduction.
FCC Commissioner Jonathan Adelstein attended the hearing, but did not testify.