Martin Discusses Network Neutrality
February 8, 2006. Federal Communications Commission (FCC) Chairman Kevin Martin answered questions about network neutrality on February 8, 2006, at an event hosted by the American Enterprise Institute (AEI).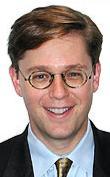 Martin (at right) participated in an AEI panel discussion on the just published book by former FCC Commissioner Harold Furchtgott-Roth titled A Tough Act to Follow: The Telecommunications Act of 1996 and the Separation of Powers [Amazon]. He also responded to questions from reporters. See, transcript of Martin's statements regarding network neutrality.
The day before, Tuesday, February 7, 2006, the Senate Commerce Committee held a hearing on net neutrality. See, story titled "Senators Debate Net Neutrality Mandate" in TLJ Daily E-Mail Alert No. 1,305, February 8, 2006. No one from the FCC testified at that hearing.
Martin said that the FCC demonstrated its commitment to network neutrality by adopting a Policy Statement [3 pages in PDF] last August. See also, story titled "FCC Adopts a Policy Statement Regarding Network Neutrality" in TLJ Daily E-Mail Alert No. 1,190, August 8, 2005. The FCC released the text of the Policy Statement on September 23, 2005. See, story titled "FCC Releases Policy Statement Regarding Internet Regulation" in TLJ Daily E-Mail Alert No. 1,221, September 26, 2005.
He stated that "consumers should be able to access whatever content that they desire on the internet" and that there should be "a free flow of information on the internet across these various networks, whether its is cable modem or DSL network".
He elaborated that "the Commission has said that a carrier cannot block a consumer's access. On the other hand, the Commission has indicated that carriers are able to charge consumers varying degrees of prices for varying degrees of speed that they can get, and that that is not the same thing as blocking."
But, he added that the FCC "hasn't spoken" yet to "the issue of whether or not the carriers can charge any of the content providers".
Martin was asked about reporters' stories regarding broadband network owners' pricing of access to providers of internet services, such as Google. Martin said that "I think that the marketplace is still evolving, and think that you have to wait and see what, what actually develops, I think, rather than just responding to press reports, we will see what actually occurs."
He was also asked about the March 2005 Order [1 page in PDF] and Consent Decree [4 pages in PDF] affecting Madison River Communications. It had blocked ports used for voice over internet protocol (VOIP) applications. The FCC and Madison River entered into a consent decree that barred continuation of this practice.
Martin was asked whether the FCC could now take action against a cable modem service provider or DSL service provider, since it has classified these services a information services.
Also, several Senators and witnesses questioned the FCC's authority following its classification rulings.
Martin first pointed out that there were a complaint filed with the FCC that raises these questions, the FCC would address that. But, until then, he is limited in what he can say. However, he did comment on what the FCC did last year in the Madison River proceeding.
He said that the FCC "acted in the past when people were blocking internet access over broadband pipes, and the Commission has already said that broadband pipes by telecommunications companies are the same as cable companies."
Hence, he appears to suggest that the FCC would take action against any broadband service provider, including both cable modem and DSL, that blocks consumer access. However, this does not address whether the FCC now has authority to take action against a broadband service provider in connection with its charging or charging different prices to different content or service providers.
Also, Martin made the point that the action that the FCC took regarding Madison River was not dependent upon any common carrier classification. He said that the FCC "had never determined that clearly one way or another. We clarified the DSL order, but I don't think that the Commission had ordered that they were under the previous common carrier regime. I think that was still an open question. I think that that was the point of our original notice".