PR China's Vice Premier Offers Minimal Assurances Regarding IPR Theft
April 11, 2006. The U.S. Trade Representative (USTR) Rob Portman, Secretary of Commerce Carlos Gutierrez, and Vice Premier Wu Yi of the People's Republic of China met in Washington DC to discuss China's failure to enforce intellectual property rights (IPR).
The USTR issued a release, PR China issued a release, and the officials held a joint news conference. See, transcript [11 pages in PDF].
The USTR stated in its release that "China committed to addressing ... improving protection of intellectual property rights in China".
The release also states that "The Chinese agreed to the following: ... launching negotiations to join the WTO government procurement agreement; requiring Chinese computers to use legal software; closing optical disk plants that produce pirated CDs and DVDs and stepped up enforcement of IPR; requiring all trade-related measures to be published in a single official journal ..."
The USTR also stated that the U.S. and China agreed "agreed to establish a U.S.-China High Technology and Strategic Trade Working Group under the JCCT to review export control cooperation and facilitate high technology trade. Among the Group's first activities will be planning a bilateral export control seminar in China."

Gutierrez (at right) said at the news conference that "there were commitments made by China to improve enforcement of intellectual property rights. China's national copyright administration and the ministry of Information and Industry have issued rules requiring all manufacturers to preload legal software on computers sold in China." He added that "China has closed a number of factories producing pirated optical discs and is stepping up overall intellectual property enforcement."
"China has agreed to appropriate adjustments in equity capitalization requirements in the telecommunications sector, with discussions to begin this year. This will remove a barrier to U.S. service providers who seek to compete in China."
He continued that "the Chinese have taken steps to ensure greater transparency in their economy. China has announced that it will begin negotiations to join the WTO Government Procurement Agreement. Following technical consultations, China will submit its final offer no later than December 31, 2007. "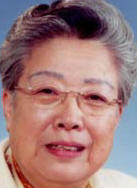 The PRC's Wu Yi (at left) said that "The Chinese side provided a comprehensive elaboration on its achievement of IPR protection and the 14 measures to reinforce the protections that have already covered the major IPR concern of the U.S. side."
She continued that "We have issued the action plan on IPR protection in China 2006." She added that "I will not make any further elaboration about this IPR Action Plan on this occasion."
She did state that "IPR trial chambers will be open in courts across China; 50 IPR Infringement Reporting Centers will be set up in 50 key cities in China, and IPR ombudsman has already been dispatched to the Chinese embassy here in the United States."
She continued that "A regulation has been issued regarding the accelerated transfer of IPR cases from administrative enforcement bodies to criminal enforcement bodies. A regulation on IPR protection in trade fairs have been issued. A regulation will be issued requiring that legal operating systems must be preloaded on computers purchased by governments at all levels. A regulation will be issued requiring that computer producers and importers must preload legal operating systems on their computers and products ..."
"The outline of IPR protection has already been formulated. The program of promoting Chinese enterprises to use legal computer software will be implemented. Traditional interpretations of civil prosecution will be formulated. It has been decided that the application for China's accession to the WIPO Internet Treaty will be submitted to China's National People's Congress before the end of June 2006." She also said that "special operations on fighting IPR infringement will be carried out in 2006. Special campaigns of combating illegal optical disc production lines and market rectification have scored positive results."
She also touched on telecom issues. She said that "The position has been reiterated that technology neutrality on three-G standards will be -- remain." She also said that "Consideration will be given to an appropriate adjustment to the telecom capitalization requirement."
Myron Brilliant, of the U.S. Chamber of Commerce, stated in a release that these statements reflect only "modest progress" and "measured gains" on intellectual property rights.
He elaborated that "Putting real teeth into the enforcement of IPR is critical to strengthening the U.S.-China trade relationship ... Even as we recognize measured gains from today's meetings, we expect future discussions with China to yield significant and consistent progress on systemic challenges that hinder American access to the Chinese market and impede competition."
The International Intellectual Property Alliance (IIPA) stated in a release [PDF] that "While this bilateral negotiating process has achieved some gains in improving the Chinese IPR system, piracy levels remain high and the key commitment to ``significantly reduce levels of IPR infringements´´ in China -- made by Vice Premier Wu Yi in the 2004 JCCT meetings -- have yet to be redeemed by the Chinese authorities."
IIPA President Eric Smith stated in this release that the "IIPA is disappointed that no commitments were made to share forensic data on optical disc products with the private sector to assist in identifying piracy within optical disc factories or to commence a meaningful software asset management system within government ministries, though these issues apparently remain open for discussion in the JCCT IPR Working Group. IIPA also was hoping for the Chinese authorities to announce the commencement of, or conclusion of, significant criminal enforcement actions but no such announcements were made."
Neil Turkewitz of the Recording Industry Association of America (RIAA), stated in a release that "In the wake of this meeting, we look to the Chinese government to take immediate action to reduce copyright piracy within its borders. As always, meaningful follow through is the key to real progress. We continue to call upon China to implement its previous JCCT commitment to reduce copyright piracy by 50 percent from its current levels."
Turkewitz added that "We also continue to advocate that China remove barriers to market and investment access for legitimate sound recording producers. The vacuum caused by China's trade barriers is filled again and again by pirates who, by the nature of their illegal activities, do not adhere to legitimate market rules. We strongly urge that China immediately begin to address the administrative hurdles that limit market entry and the distribution of legal materials. For example, permitting wholly-owned foreign investments in all aspects of sound recording activity would be an important step to ensure that China reaches its potential for generating legitimate commerce in copyright materials."